Thanks for bearing with our many announcements these past couple weeks. We have just one today (in addition to news from PYMIG liaison Steve Crime below):
1.  Community Playground Closures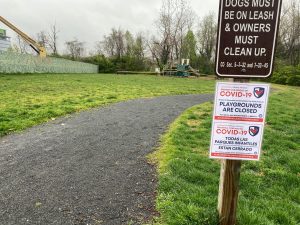 We've authorized Sentry Management to close off the playground at the south end of the neighborhood. The playground at the north end has been closed off by the City (see photo) in accordance with this recent mandate, which the Communications Committee posted several days ago. We're doing the same with the south playground to encourage social distancing and avoidance of high-touch areas and surfaces, and ultimately to slow the spread of COVID-19. The area will likely be closed off tomorrow, but please avoid it in the meantime.
As always, if you have any questions, please email Christie Beruete at cberuete@sentrymgt.com.
All best–
PG HOA Board of Directors
2.  Construction Update — Traffic Circle
The following is an update from our neighborhood's PYMIG liaison, Steve Crime.
PYC informed WMATA that the crumbling asphalt at the traffic circle will be repaired tomorrow, March 26, 2020, weather permitting.