The PYMIG posted a video update of Metrorail Station construction on April 26, 2021.  The video's purpose was for the builders (Potomac Yard Constructors or PYC) to discuss the Metrorail Station's progress and address the future construction schedule.  The video is available here. I encourage residents to view the 11:58 minute video.  The drawing below will help residents locate the various elements of the Metrorail station.
AC Switchgear Building.  Work continues on the switchgear building and the duct banks that will connect the equipment in the building to the Metrorail station.  PYC anticipates that they will begin to install the building's brick façade in May (slides 5-6).
Mezzanine/Headhouses.  PYC is constructing rooms in the headhouses for equipment to support Metrorail station operations. PYC has installed white steel to support the roof over the mezzanine and the escalators to the platforms.  In addition to the white steel, PYC has begun to install 'brown steel' to create an exoskeleton that will support the glass and steel louvers that will form the sides of the Metrorail station (slides 7-13).
Station Platforms. PYC is installing a track drainage system between the platforms and installing conduits in the platform basement areas. (slides 14-16).
Pedestrian Bridge.  Earlier this year, PYC installed steel trusses for the pedestrian bridge over the CSX and WMATA tracks.  PYC is now beginning to install the bridge's deck.  The deck will be made of steel and concrete (slides 9-19).
North Entrance Pavilion.  The North entrance pavilion will be the primary access to the future Virginia Tech Innovation campus.  PYC has poured the lower-level concrete walls, completed the roof, and installed steel to support the upper-level glass walls.  PYC anticipates installing the next section of the pedestrian bridge that will connect the north pavilion to the knuckle in May (slides 20-22).
Southwest Pavilion.  The 38 piles for the south pavilion have been installed.  PYC will begin construction of the south pavilion itself shortly.
Future Schedule.  You can find the short-term schedule through July on slide 25 and the long-term schedule through project completion on slide 26.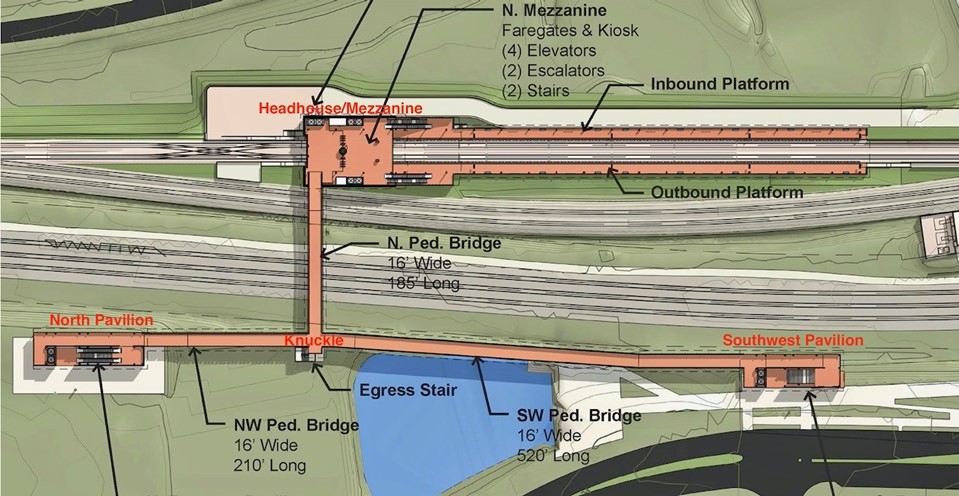 update courtesy of Steve Crime – PG neighborhood's PYMIG liaison