As the Metrorail construction project nears completion, construction damage claims are now being accepted. If you believe your home was damaged during construction, you should submit a claim by email to Fred Robertson of WMATA (frobertson@wmata.com), copy to Jeff Wood of PYC (jwood@halmarinternational.com). Please include your name, address, and a description of the damage. You will receive the appropriate forms and a cover letter with a claim number. An adjudication process will determine the validity of your claim. Please note neither the City of Alexandria nor the Potomac Greens HOA are involved in the adjudication process.  Additionally, only some of our homes were considered 'at risk' for construction damage.
On November 6, 2018, WMATA and the builders (PYC) identified the areas that would experience active construction activities. The borders of the active regions were called Limits of Disturbance (LOD). They then plotted a 250-foot offset outside the LOD to identify where homes might experience damage from construction activities.   The photograph shows the outline of the LOD with a blue dashed line and the offset area with a red dashed line.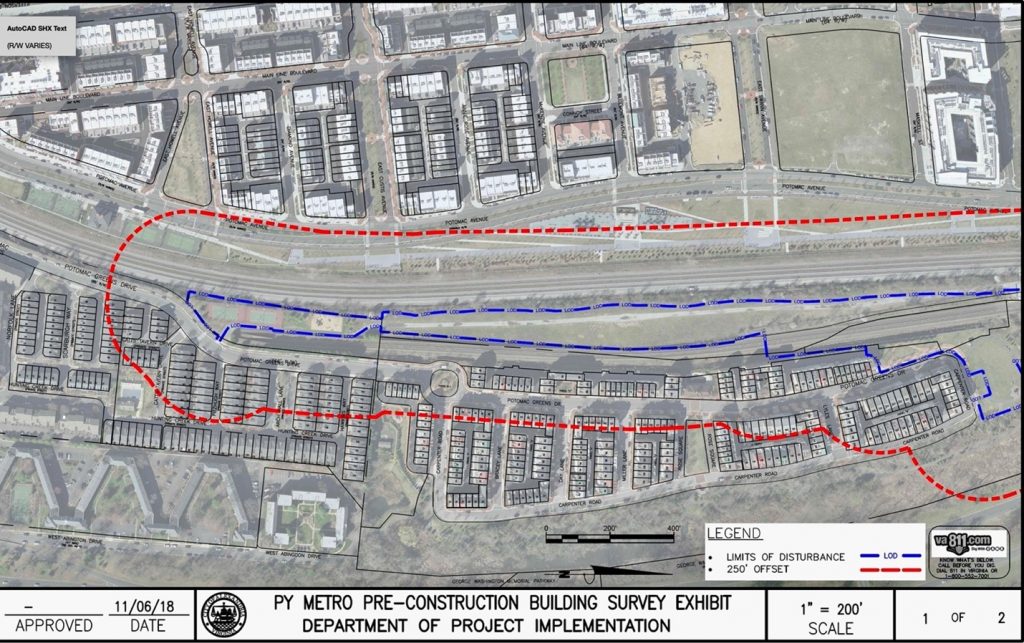 In July-August 2019, WMATA and PYC offered to have a third-party contractor, Terracon, conduct pre-construction surveys of homes within the offset area to establish their pre-construction condition. However, homeowners had to request the surveys. At the time, PYC stated that if homeowners did not request a pre-construction survey, PYC/WMATA would not be able to support any future damage claims which would have been detected in the pre-construction and post-construction surveys. Some, but not all, homeowners in the offset area, did request home surveys. Terracon retained the photographs and notes of the surveys. Terracon did not share information with WMATA, PYC, the City of Alexandria, or the Potomac Greens HOA. Further, Terracon did not inform the City or the HOA of which homes they inspected because we were not part of the  adjudication process.
You can find some of the historical posts about these matters by going to the Community Facebook page, search using the word "inspections" and specify the "Date Posted" to search as 2019.
Update courtesy of Steve Crime, PG's neighborhood liaison to PYMIG.