The PYMIG held a virtual meeting via Zoom on March 22, 2021, at 7:00 pm.  The meeting's purpose was for the builders (Potomac Yard Constructors or PYC) to update the Metrorail Station's progress and address the future construction schedule.  The agenda, presentation materials, and video of the meeting are available at here  (Note: The presentation material slides will significantly help you understand the synopsis below).
Construction Update
Pedestrian and Cyclist Interface

. A bike path will run along Potomac Avenue immediately west of the Southwest Pavilion (Potomac Yard side).  City staff discussed traffic on the bike path conflicting with pedestrians going to and from the Glebe Rd Metro entrance.  The City is taking a two-phased approach to address those concerns; an initial plan and later improvements as needed (slides 3-5).

South Pavilion Pile Driving

. Pile driving has begun in the area of the south entrance pavilion. PYC will install a total of 38 test and production piles over the next several weeks (slide 7).

Pedestrian Bridge

. PYC stated they would install the pedestrian bridge portion to span the WMATA tracks March 22-29 (slide 8).  The two trusses for that portion of the pedestrian bridge have now been installed (see photo below).

Pictorial Overview

of Metrorail Station Construction (slides 9-31).

Future Schedule

. You can find PYC's short-term construction schedule (March 2021 through July 2021) on slide 32. The long-term project schedule (through project completion in March 2022) can be found on slide 33.  WMATA estimates there will be six partial shutdowns, with WMATA using a single track, between April 2021 and June 2021.

Post-Construction Restoration of Traffic Circle and North Park

. After the formal presentation ended, there was a question-and-answer period.  PYC confirmed they are currently on track to open in March 2022.  They also stated that they intended to restore the traffic circle and north park in the February-March 2022 timeframe provided they remain on schedule.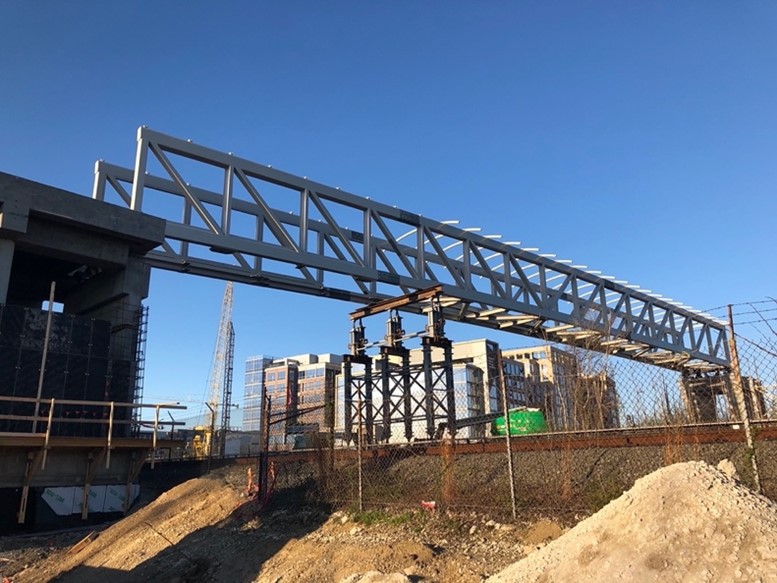 Update courtesy of Steve Crime – PG neighborhood's PYMIG liaison