City Staff has reached out to let us know they have contracted with a vendor, Stantec, to perform invasive vegetation control around a Torrey's rush colony in the wetlands near the new Metrorail station.  By way of history, the City of Alexandria had to obtain permits from the Virginia State Water Control Board (SWCB) and the U.S Army Corps of Engineers before construction of the new Metrorail station in the National Park Service wetlands could begin. On May 31, 2019, and June 17, 2019, the Virginia Department of Environmental Quality (DEQ) received comments from the Virginia Department of Conservation and Recreation, noting the presence of Torrey's rush, a critically imperiled plant in Virginia, on the project site. DEQ requested that the City of Alexandria conduct an inventory of plant species within the proposed construction area. Stantec surveyed the site in July 2019 and submitted the results to DEQ on August 6, 2019. The plant inventory identified 107 species, of which Torrey's rush was the only species of particular concern. Torrey's rush occurred on-site in a 400-square-foot colony adjacent to the existing railway and a paved trail. Torrey's rush comprised about 45% of the aerial plant coverage in this 400-square-foot area. The SWCB required the City of Alexandria to transplant the colony a safe distance away.  Stantec transplanted the colony in November 2019. The location of the new colony is next to the wooden bridge on the wetlands trail (see photos below).
Stantec will manually remove the invasive species and an apply an aquatic approved herbicide & surfactant by hand. This activity will take one (1) day in the first week of August. The earliest City Staff anticipate Stantec being on site is Tuesday, August 2. This task is weather dependent. PYC will place a dumpster within Carpenter Road in front of the playground area to collect the bagged vegetation. The dumpster should be delivered and removed on the same day as the removal activity.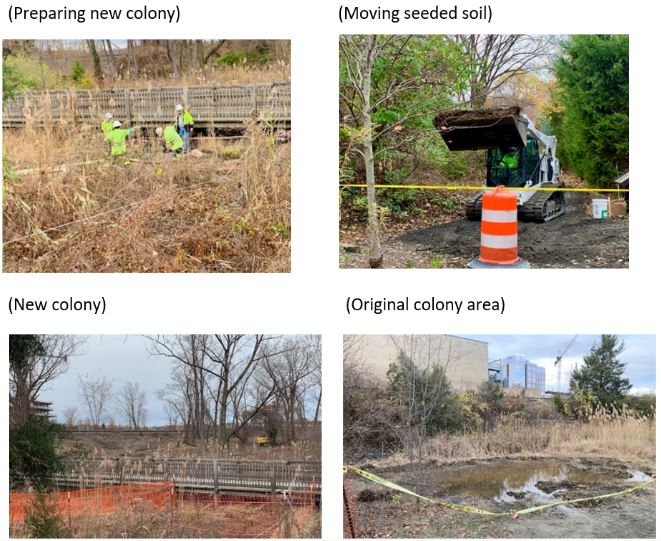 Update courtesy of Steve Crime, PG's neighborhood liaison to PYMIG.