The PYMIG posted a video update of Metrorail Station construction on March 2, 2020.  The video's purpose was for the builders (Potomac Yard Constructors or PYC) to discuss the Metrorail Station's progress and address the future construction schedule.  The video is available here  I encourage residents to view the 14:35 minute video.  The drawing below will help residents locate the various elements of the Metrorail station. Note – the slide #'s referenced below pertain to slides in the video.
Southwest Pavilion.  PYC will be driving a total of 38 piles in the area under and around the Southwest Pavilion (on the Potomac Yard side) over a three-week timeframe that begins the first week of March (slide 3).
Pedestrian Bridge.  PYC installed the first of four pedestrian bridge trusses.  The truss is one of two that will pass over the CSX tracks and connect the Knuckle to an intermediate support column between the CSX and WMATA tracks.  PYC will then install two trusses that span the WMATA tracks from the intermediate support column to the mezzanine (slides 5-6).
Station Platforms. The platforms are largely complete structurally.  PYC is now installing equipment within the platforms (slides 7-9).
Mezzanine/Headhouses.  The concrete pours for the mezzanine floor are largely complete. PYC is now removing the steel structure that supported the weight of the floor while the concrete cured.  PYC will pour additional concrete for a utility room atop the mezzanine floor (slides 10-12).
North Entrance Pavilion.  The North entrance pavilion will be the primary access to the future Virginia Tech Innovation campus.   PYC wrapped the lower level of the pavilion with plastic to create a covered and heated area for workers to pour concrete (slides 13-15).
Duct Bank Installation. PYC installed the duct banks that will connect the AC switchgear building to the station over the Presidents Day weekend.  You can view a time-lapse 5:30 minute video of the work at Slide 16.
Future Schedule.  You can find the short-term schedule through May at slide 17 and the long-term schedule through project completion at slide 18.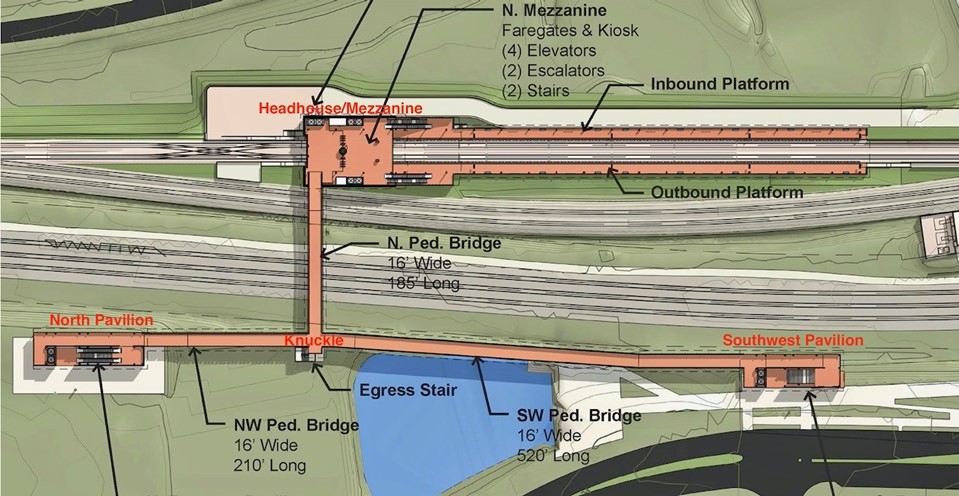 update courtesy of Steve Crime – PG neighborhood's PYMIG liaison